88 Inverness Circle East


Englewood, Colorado

Office Court on Inverness is a 14 building courtyard office project offering Suites of 728 and 5,000 square feet for lease or sale as a condominium. This new and attractive project features modern light filled office spaces surrounded by mature landscaping,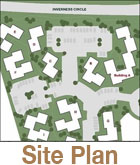 and is home to over eighty businesses in every conceivable discipline.
The project has enjoyed rapid absorption and maintained above market occupancy due to a product whose assets uniquely appeal to small business people: self sufficiency, a high level of customer service through on site management, operable windows, a lushly landscaped environment, a convenient and a prestigious location on the Inverness golf course, and very efficient design.